Central point in the trades to the Middle East, the ancient port of Itanos (Erimoùpoli for the Greeks) has prehistoric origins and until the Roman conquest (in 67 BC) ruled the eastern part of the island, rivaling Ieraptina (now Ierapetra), was then totally abandoned in the Byzantine period, probably because of raids by pirates, very common here as in all the Aegean.
The area was then briefly populated in the sixteenth century under the Venetian occupation and for that reason it is included in the census of the period (source wikipedia and "Crete - Gold Guide" by the Italian Touring Club, published by "Touring Editore srl.", Milan).
Today Itanos offers to visitors sandy beaches, crystal clear sea, beautiful waters for snorkelers, the interesting remains of its antiquities and a landscape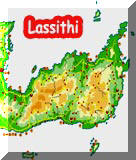 of rare beauty that recalls the not very distant african shores of the Mediterranean.
A visit therefore not to be missed! Perhaps trying to avoid the central period of August, when you will find enough tourists.